Continental VanContact Eco Tyres Available in Huddersfield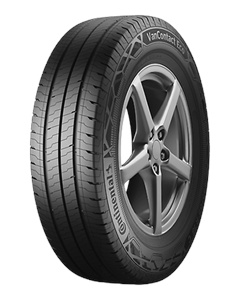 VanContact Eco
Maximum fuel efficiency thanks to an innovative compound
Enhanced mileage through a wear optimised pattern
The innovative groove design improves the noise level comfort
Technical Details
Maximum fuel efficiency thanks to an innovative compound
An innovative compound balances out the conflict between wet performance and rolling resistance and brings it to an unprecedented new level. Newly developed compound mixture has a stabilizing effect on the tyre. All in all these lead to a decreased rolling resistance and efficient tyre use.
Enhanced mileage through a wear optimised pattern
Compared to the proven ContiVanContact™ 200 the completely newly developed tread pattern of the VanContact™ Eco is characterized by a stable tread pattern design. This leads to a more equal divided pressure which visibly reduces abrasion. Furthermore it enhances the handling properties under heavy loads.
The innovative groove design improves the noise level comfort
The VanContact™ Eco comes with an innovative groove design. With this technology we reach an optimal noise level comfort for a van tyre while keeping a consistently high wet performance.